Karachi ethnic violence kills 12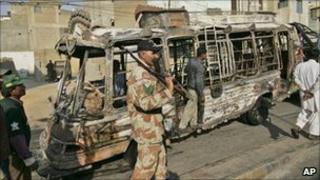 At least 12 people have been killed in ethnic violence in Pakistan's southern port city of Karachi, police say.
The killings started with an attack on Thursday on a local leader of ANP party. Police said most of the killings had been drive-by shootings.
Hundreds of people have been killed in ethnic and sectarian conflict in Karachi since 2008.
Many attribute the killings to fighting between two ethnic parties for political space in the city.
An ANP spokesman told the BBC that party leader Bashir Jan was slightly injured in the attack. His bodyguard was seriously wounded.
The shooting raised tensions across the city of 17 million people, leading to further drive-by shootings, which continued overnight.
The dead included a Geo TV reporter, Wali Khan Babar, who was shot five times at point blank range, the channel reported.
It said Mr Babar, 28, was driving home in his car on Thursday night when another car drove alongside his vehicle. One of the occupants of that car fired at him, killing him instantly.
Mr Babar was an ethnic Pashtun from the Zhobe district of Balochistan province.
The ANP, which is supported by the Pashtun population of Karachi, says its workers and sympathisers are being targeted by the city's dominant party MQM [Muttahida Qaumi Movement] to prevent it from extending its political clout.
The MQM denies this, and says that Taliban militants among the Pashtun population are targeting MQM activists in a bid to extend their control of the city.
There have also been hundreds of killings of a sectarian nature in Karachi.
The Human Rights Commission of Pakistan, an independent rights group, said in a report in December that at least 711 people had died in "targeted killings" in Karachi between January and November of 2010.