Indian PM unveils steps to curb food price inflation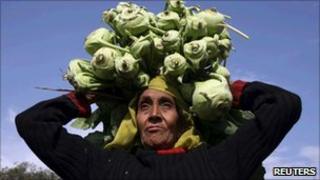 India has announced a slew of measures to curb spiralling food prices.
The prime minister's office said the government would review import and export of essential commodities and sell onions at a restricted price.
Experts, however, say the measures are too little, too late and a repeat of already failed steps.
Meanwhile, government data released on Friday showed that the wholesale price index (WPI) had risen to 8.43% in December - the highest in a year.
This was attributed to the soaring price of vegetables, milk and other staples which took food inflation to 18.32% last month - the highest in more than a year.
Admitting that food prices had risen to "unacceptable" levels, the authorities said it was proving difficult to manage inflation.
The price of onions, a staple food used in many dishes, has risen dramatically - even prompting India's government to approach long-time rival Pakistan for help.
A kilogram of onions, which usually costs 20 rupees in India, went up to 85 rupees (£1.20; $1.87) last month. It is now about 60-65 rupees a kilo after government intervention.
The government said state-run stores would sell the vegetable at 35 rupees a kilo. The expected arrival of 1,000 tonnes of onions from Pakistan soon would also ease the situation, it said.
The price rise has been blamed on unusually heavy rains in the bulk-producing western states of Maharashtra and Gujarat and in southern states, as well as on hoarders and speculators.
The ban on export of onions, pulses, cooking oil and cheaper varieties of rice will continue. State agencies would also retail edible oil and pulses at a reasonable rate, the authorities said.
Economists said the government had shied away from taking bold steps and that the steps would be unlikely to help much.
Discontent over food inflation has been a major headache for the government.
High prices of essential commodities such as onions have previously sparked unrest and helped bring down the national government in 2004.