Pakistan fines two channels for Taseer murder coverage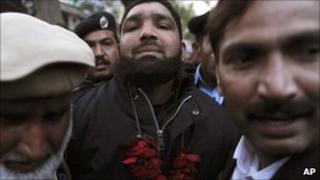 Two Pakistani television channels have been fined for breaching regulations in their coverage of the 4 January killing of Punjab Governor Salman Taseer.
The stations, Samaa and Waqt TV, were ordered to pay one million rupees each ($11,670) by media regulator, Pemra.
It said they had encouraged terrorism and shown bloodshed by repeatedly airing an interview with Mumtaz Qadri, who has admitted killing Mr Taseer.
Websites should also stop spreading violence, Pemra's head told the BBC.
Although many in Pakistan condemned the assassination, some religious leaders have praised the governor's killer.
The governor - a senior member of the ruling Pakistan People's Party (PPP) - had recently angered Islamists by appealing for a Christian woman, sentenced to death for blasphemy, to be pardoned.