US offers to help Bangladesh pursue war crimes trial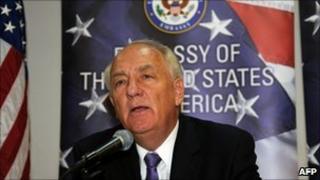 The US will help Bangladesh to stage "transparent" trials for crimes committed during its independence war, an American envoy has said.
Last year six people, including five leaders of the Islamic Jamaat-e-Islami party, were charged with war crimes.
Thousands of people are believed to have died in the 1971 war, which culminated in the country's independence from Pakistan.
The father of PM Sheikh Hasina played a key role in winning the war.
The opposition Bangladesh Nationalist Party say that the husband of their leader, Khaleda Zia, also played a signifiant role.
"The US government will help Bangladesh hold an open and transparent war crimes trial with the rights of defence for the accused," Stephen Rapp, US ambassador-at-large for war crimes issues, told a news conference.
He said that American officials would advise how to ensure the right to defence and would also help investigators gather evidence.
The BBC's Anbarasan Ethirajan in Dhaka says that this is the first time a senior American envoy has visited the country to discuss the war crimes tribunal.
Our correspondent says that the fact that he has been asked to do so shows that the government is willing to listen to suggestions and ideas from international experts in an attempt to give more credibility to its efforts to pursue suspects.
"I hope that within the next week I will send a memorandum to the law minister suggesting ideas that may meet some of the issues that have been raised by... organisations like the International Bar Association that may help assure that justice is done and seem to be done in the process here," Mr Rapp said.
He said that it was important that "everything is done in a way that meets international standards according to the traditions and process of this country" and that the "prosecution process was open and transparent".