Hindu holy man Aseemanand in custody over India blasts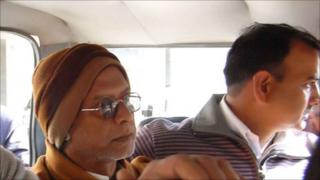 An Indian court has remanded in custody a Hindu holy man accused of a string of bomb attacks previously thought to be the work of Muslim militants.
Swami Aseemanand allegedly admitted to placing bombs on a train to Pakistan, at a Sufi shrine and at a mosque.
He has also allegedly confessed to carrying out two assaults on the southern Indian town of Malegaon, which has a large Muslim population.
He has been remanded in custody for the four attacks until 27 January.
Headway
Police say that Mr Aseemanand gave them details of his role in the mosque attack in the city of Hyderabad in 2007 in addition to attacks on a graveyard in Malegaon and a Sufi shrine in Ajmer.
Several Muslim men were arrested for those attacks - and some reports said that they had been tortured. Most are still in custody.
Mr Aseemanand was arrested in November after being in hiding for two years, police said.
According to India's Tehelka magazine, which has obtained a copy of his 42-page confession, he told his interrogators that the attacks on Muslim places were in response to attacks by Islamist militants in India.
It quotes him as saying that many of those involved in the bombings were members of Rashtriya Swayamsevak Sangh (RSS) - the right-wing parent organisation of India's main opposition Bharatiya Janata Party.
The bomb attack on the Samjhauta (Compromise) Express train travelling from India to Pakistan in February 2007 killed 68 people. Many of the passengers who died in the incident were Pakistanis returning home.
The 2008 blast in the town of Malegaon killed seven people and left more than 100 injured. A female Hindu priest, Sadhwi Pragya Singh Thakur, and a serving Indian army officer were among 11 people who were arrested in connection with the attack.
In May 2007, at least 14 people were killed in an explosion during Friday prayers at the Mecca mosque in Hyderabad. It is one of India's biggest mosques, and there was rioting afterwards.
And in October 2007, a bomb attack on a famous Sufi Muslim shrine in the city of Ajmer - in the state of Rajasthan - killed two people.
Anger over leaks
Most of these blasts were initially blamed on local militant groups and several Muslim men were arrested for alleged involvement.
But correspondents say the police were unable to make much headway in their investigations.
Opposition politicians were angered recently after leaked diplomatic cables suggested Rahul Gandhi, widely tipped as a future Indian PM, believed Hindu radicals might pose a greater threat than Islamist militants.
According to Wikileaks, Mr Gandhi told a US envoy last year there was some support among Indian Muslims for militants such as Lashkar-e-Taiba.
But he told ambassador Timothy Roemer the greater threat could come from the growth of radical Hindu groups.