Battle to reach thousands of Sri Lanka flood victims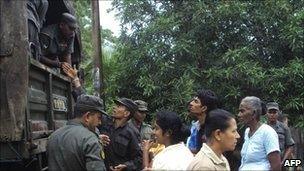 More than 30,000 army, navy, police and air force personnel are battling to provide urgent aid to people hit by heavy flooding in Sri Lanka.
A government spokesman said more than 325,000 people had been displaced by flooding. At least 27 people have died and more than a million are affected.
The priority since the rains abated on Thursday has been to deliver emergency food and medical supplies.
In the centre and east, farmland has been flooded and rice fields destroyed.
Thousands of people who fled the flooding are now living in camps on higher ground, a spokesman from the disaster management centre told the BBC.
But officials say that in some cases those camps in turn have been flooded; late on Wednesday reports said 25 out of 200 had been inundated in the coastal area of Batticaloa, one of the worst-hit regions.
Conditions since then have improved in some of the flooded camps, removing the need for people to be evacuated, says the BBC's Charles Haviland who is on his way to the area.
"More than one million people have been affected by the floods," UN children's fund spokesman Mervyn Fletcher told the BBC from Colombo.
"That means they have either been forced from their homes or have seen their property flooded.
"Access to clean water is becoming a major problem and we and other agencies are distributing purification tablets."
The UN says that crocodiles and snakes are a threat to anyone wading through the flood waters.
Mr Fletcher said that the floods were especially bad news for people in the east, who in recent years have also endured a civil war and a tsunami.
The floods have left some stretches of railway line under nearly a metre of water.
Officials in Ampara to the south of Batticaloa say the rainfall there since Saturday has been the highest ever recorded in such a short time.
"There is a shortage of food for children," a member of Sri Lanka's minority Muslim community in Ampara told BBC Tamil on Wednesday.
"We were forced to divide a single breakfast food parcel into four and give it to our four children.
"We have not got any help from the government. But the local people - especially the rich - have come forward and helped us. We are only getting something to eat because of their generosity."
A number of big reservoirs have burst their banks, destroying paddy fields in a major rice-growing area.
The air force has been helping evacuate people and drop food supplies to some cut-off communities.
But people in some remote areas say they have seen no sign of aid agencies or government relief.
People in the central districts of Matale and Badulla are being evacuated because of the landslide threat, authorities say
Vegetable prices have risen sharply because there is no means of transportation to the wholesale markets
The temperature in Colombo dropped to 18.8C on Wednesday - the lowest recorded for 61 years, the Met Department said
India's government says it will dispatch relief material to help those hit by the floods, with the first consignment due to arrive on Friday
Sri Lanka's government has made an emergency appeal for ordinary people's help in sending dry rations, mattresses and bottled water.
The floods bring a risk of disease, including the mosquito-borne dengue fever, which even in normal times is a severe problem in the country.
Related Internet Links
The BBC is not responsible for the content of external sites.