Sole prime ministerial candidate in Nepal withdraws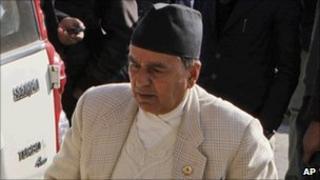 The sole candidate has pulled out of a vote to choose a new PM for Nepal after 16 tries, clearing the way for fresh attempts to form a government.
Ram Chandra Poudel of the Nepali Congress party has failed for months to get majority backing in parliament.
The parliament will meet on Thursday to re-start the election process.
Nepal has had no prime minister since Madhav Kumar Nepal resigned in June. Mr Nepal has been running a caretaker government ever since.
In November, the political parties agreed to pass the budget with the condition that no new government policies would be funded.
Since July, MPs have voted 16 times to elect a new prime minister and end the political crisis. The seventeenth vote was scheduled for Wednesday.
In the past months, several ideas for a power-sharing agreement have been proposed, including one scheme for each of the three major parties to take on the role of prime minister in rotation.