Drone attack in Pakistan kills three 'militants'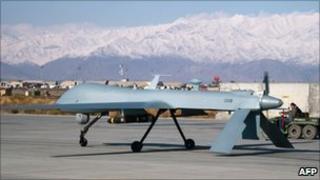 At least three militants have been killed in a US drone strike in north-west Pakistan, say local officials.
Four missiles struck a compound in Haiderkhel village, 5km (3 miles) east of Mir Ali town in North Waziristan district on the Afghan border.
The area is a haven for al-Qaeda and the Taliban. US drone attacks have escalated in the tribal region since President Barack Obama took office.
More than 100 raids were reported in the region last year.
The compound, the target of Wednesday's attack, was owned by Zafar Khan, who was linked to a militant group led by Hafiz Gul Bahadur, officials told the BBC.
Two rooms inside the compound had been completely destroyed and several others had been damaged, they said.
Witnesses said local Taliban had cordoned off the area and shifted the bodies to an unknown place.
This is the third drone attack in Pakistani tribal areas this year.
On 2 January, four separate drone strikes in the same region killed 18 people.
Two more people were killed in another strike on 7 January in the same region.
The US does not routinely confirm that it has launched drone operations, but analysts say only American forces have deployed such aircraft in the region.