Bhutto suspect Qari Saifullah Akhtar 'no terrorist'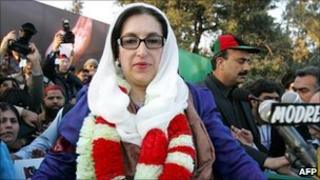 A freed al-Qaeda suspect who has been linked to attacks on the late Benazir Bhutto is not a terrorist, Punjab's top judicial official has said.
Qari Saifullah Akhtar was released in December after reportedly being placed under house arrest four months earlier.
Punjab Home Minister Rana Sanaullah told reporters in Lahore that Mr Akhtar had been quizzed about two attacks on the former prime minister.
But Punjab authorities released him for lack of evidence, said the minister.
It is not clear which agency detained Mr Akhtar in August last year, or why. He has previously been detained a number of times and released.
'No proof'
The BBC's M Ilyas Khan in Islamabad says Mr Akhtar has been linked to al-Qaeda and the Taliban, as well as to the Pakistani intelligence community.
Mr Akhtar was briefly detained in connection with a double bomb attack on Ms Bhutto in Karachi in October 2007 which left some 135 people dead.
The former prime minister escaped the Karachi attack, but was killed in Rawalpindi in December 2007. Mr Akhtar was again held by investigators before being freed in June 2008.
The Punjab home minister told reporters in Lahore on Tuesday: "So if he got released after facing interrogation in two most sensitive cases, then he cannot be termed a terrorist or accused of involvement in any case without the existence of any other proof."
In her posthumously published book of memoirs, entitled Reconciliation, Ms Bhutto herself accused Mr Akhtar of involvement in the Karachi attack.