India teachers held as boy dies after school punishment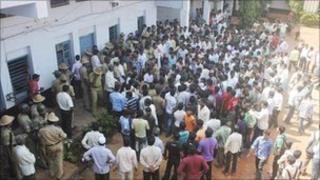 Police in southern India have ordered an inquiry into the death of a schoolboy who collapsed after being punished for not attending classes.
Police have arrested two teachers following the death of the 14-year-old.
The dead boy's family in the state of Karnataka had complained that their son had been physically punished for not attending classes.
The student was allegedly told to run around the grounds of the school and fell over after two circuits.
The incident happened in the coastal district of Karwar, 450km (280 miles) from the state capital, Bangalore.
Angry crowds
Afzal Hamza Sab, a pupil at the privately run New English School, was declared dead soon after being taken to hospital at Honnavar.
District Commissioner BN Krishnaiah told the BBC an investigation was under way to find out what caused the pupil's death.
"The boy was weak and collapsed after he ran two rounds. It is a very unfortunate incident," he said.
Police have been posted at the school after an angry crowd ransacked its offices.
"Members of the public vented their anger and damaged computers and school furniture," a police official said.
The dead boy's grieving mother, Abida, blamed the headteacher and the physical instructor for her son's death.
The school management has not made any comment on the incident, but has offered to pay 100,000 rupees (£1,420; $2,210) in compensation to the family of the dead student.
Cases of corporal punishment are often reported across India.
In October last year, the headmaster of an elite Calcutta school was arrested in connection with his treatment of a 13-year-old pupil who hanged himself.
In Bangalore, a complaint was recently submitted to police against a school following reports that a student had fallen sick after he was forced to do sit-ups as a disciplinary measure.