India cabinet meet to tackle food inflation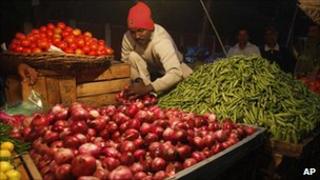 Indian Prime Minister Manmohan Singh has held a cabinet meeting to tackle spiralling food prices.
Finance Minister Pranab Mukherjee, Home Minister P Chidambaram and Food and Agriculture Minister Sharad Pawar were among those at the talks in Delhi.
The soaring price of vegetables, milk and other eatables in the past month have taken food inflation to 18.32% - the highest in more than a year.
The agriculture minister has said the crisis is likely to continue for now.
Growing concern over food inflation has caused stocks on Indian markets to fall in value in recent days. The BBC's Sanjoy Majumder in Delhi says investors fear the Central Bank could raise interest rates as a short-term measure.
The price of onions, a staple food used in many dishes, has risen dramatically - even prompting India's government to approach long-time rival Pakistan for help.
A kilogram of onions, which usually costs 20 rupees in India, went up to 85 rupees (£1.20; $1.87) last month. It is now about 60-65 rupees a kilogram.
The government has ordered some state-run stores to sell the vegetable at 35 rupees a kilogram from Tuesday.
The price rise has been blamed on unusually heavy rains in the bulk-producing western states of Maharashtra and Gujarat and in southern states, as well as on hoarders and speculators.
Cooking oil and wheat flour have also become costlier in the last month.
Discontent over food inflation has been a major headache for the government.
High prices of essential commodities such as onions have previously sparked unrest and helped bring down the national government in 2004.