Indian Premier League teams bid for cricket stars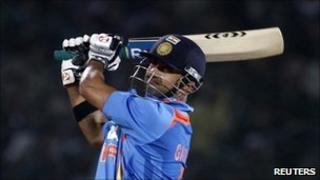 Three-hundred-and-fifty top cricket players are up for auction in India.
They will form the teams taking part in the world's richest cricket tournament, the Indian Premier League (IPL).
Those bidding for their services are expected to spend around $75m (£48m). The sought-after Indian test batsman, Gautam Gambhir, fetched $2.4m (£1.5m)
This will be the Twenty20 tournament's fourth season and its organisers are trying to improve its image, which has been tainted by corruption allegations.
IPL founder Lalit Modi was thrown out by the Board of Control for Cricket in India (BCCI), the sport's governing body, over accusations about his conduct. Mr Modi has denied all allegations of wrongdoing.
The BCCI also expelled two teams, the Rajasthan Royals and Kings XI Punjab, for not declaring changes to their ownership structures, but they successfully challenged the ruling in court and were reinstated.
Two new teams - Kochi and Pune Warriors - have joined the league, which will start just six days after the end of the World Cup co-hosted by India, Sri Lanka and Bangladesh.
Cut-price Pietersen
The player auction at a luxury hotel in Bangalore began on Saturday morning, and was attended by some of India's richest business people and most famous film stars, as well as their advisers.
Gambhir was the first player sold. The $2.4m paid by the Kolkata Knight Riders made him the most expensive player in the history of the IPL.
The Knight Riders also paid $2.1m for the Indian all-rounder, Yusuf Pathan, while the Mumbai Indians spent $2m on Rohit Sharma.
But England batsman Kevin Pietersen was signed by the Deccan Chargers for a much-reduced fee of $650,000 (£418,000).
The Ashes winner was the joint hottest property in the 2009 auction alongside Andrew Flintoff, with both men going for then record fees of $1.5m.
English players were not expected to attract huge bids this year, due to their reduced availability because of calendar clashes, but many were surprised to see Pietersen go for such a relatively modest fee.
Some top cricketers have opted out of the IPL this year, including Australia's Ricky Ponting, Michael Clarke and Mitchell Johnson, while no Pakistan's players were included in this weekend's auction.
The BBC's Rahul Tandon in Bangalore says it may have been dogged by corruption allegations, but for the next 48 hours at least the glitz and glamour has returned to the Indian Premier League.