MQM party to rejoin Pakistani PM Gilani's coalition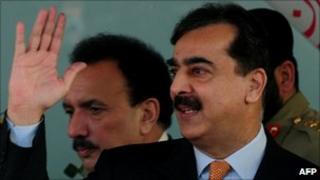 Pakistani Prime Minister Yousuf Raza Gilani has pulled his government back from the brink, persuading a former ally to rejoin the coalition.
The Muttahida Qaumi Movement (MQM), which walked out this week, relented a day after Mr Gilani defied the IMF with a climbdown on fuel price rises.
After talks with the MQM in Karachi, Mr Gilani also confirmed there would be no tax reform soon - another IMF demand.
As well as rampant militancy, Pakistan faces the threat of hyper inflation.
The sense of crisis has been growing since an outspoken liberal governor of the ruling Pakistan People's Party, Salman Taseer, was assassinated on Tuesday by his own bodyguard.
The country is also struggling to cope with the aftermath of devastating summer floods, which caused $10bn (£6.5bn) in damage.
'Mistake'
Mr Gilani's car was showered with rose petals as he arrived to meet MQM leaders on Friday in Karachi, the capital of the southern province of Sindh.
"The Muttahida Qaumi Movement announces it will sit on the government benches in the larger interest of the country and democracy," MQM chief Raza Haroon told a news conference with Mr Gilani afterwards.
But he said the party would not rejoin the federal cabinet.
Mr Haroon said the decision to back the government was because "at this time when extremism is on the rise in the country, it is important that progressive forces stand united".
The MQM's change of heart comes a day after the prime minister told parliament that fuel prices, which had been raised 9%, would be restored to the levels they were on 31 December.
The BBC's Aleem Maqbool in Islamabad says the MQM's return will provide some relief for the prime minister and his party at the end of a traumatic week in which one of its most prominent politicians, Mr Taseer, was murdered.
But Mr Gilani's U-turn was criticised by the US and the International Monetary Fund (IMF), which has been withholding part of an $11bn loan to Pakistan.
US Secretary of State Hillary Clinton said it was a "mistake", while the IMF called the fuel subsidy "inefficient and untargeted".
During Friday's news conference, the prime minister also confirmed there would be no reformed general sales tax until political consensus was reached.
The government has already delayed the levy, an IMF condition for the release of the next chunk of its loan, agreed in 2008.
The MQM withdrew two ministers from the federal cabinet last month.
Then on Sunday it said it would join the opposition benches in parliament, blaming fuel prices and high inflation.
The defection had left the prime minister facing a possible no-confidence vote.