Pakistan fuel price U-turn 'a mistake'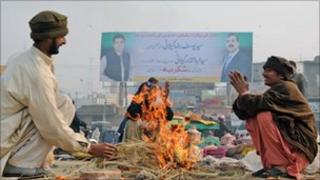 The US and the International Monetary Fund have criticised the Pakistani government's decision to reverse a recent fuel price rise.
US Secretary of State Hillary Clinton said she had warned Pakistan's ambassador on Tuesday that the move would be a mistake.
The climbdown was an apparent concession to the opposition after the government lost its majority.
Pakistan has been struggling to push through tough IMF economic reforms.
Mrs Clinton said: "We have made it clear, as I did in a meeting with their ambassador, that we think it is a mistake to reverse the progress that was being made to provide a stronger economic base for Pakistan."
Prime Minister Yousuf Raza Gilani received a warm welcome as he met Muttahida Qaumi Movement (MQM) party leaders on Friday to see if his fuel price reversal could entice the party back into government.
The MQM quit the coalition on Sunday, condemning last month's 9% rise in the price of petrol and kerosene.
MQM workers showered Mr Gilani's car with rose petals as it arrived at the party's headquarters in the southern Sindh province capital of Karachi.
The prime minister was joined by Interior Minister Rehman Malik and Sindh Governor Dr Ishratul Ibad, who is an MQM member. Mr Malik and Mr Ibad have been working to reunited the estranged party allies.
In a speech to the National Assembly on Thursday, Mr Gilani said fuel prices would be restored to the levels they were on 31 December.
'Inefficient'
The prime minister had been warned there could be a no-confidence vote if he did not lower fuel prices.
But the IMF has already put on hold a $3.5bn payment of its $11bn loan to Islamabad, and there are fears Pakistan could be heading for hyper-inflation.
Pakistan's government has delayed a reformed general sales tax, which the IMF set as a condition for the next tranche of the loan, agreed in 2008.
Together with the loss of an estimated $58m a month in taxes because of the fuel price cut, this means Pakistan is likely to miss its budget targets and could forfeit the rest of the IMF loan, say analysts.
IMF spokeswoman Caroline Atkinson said of the fuel prices: "They're inefficient and untargeted so that the bulk of the benefit from the energy subsidy goes to higher income individuals and large companies."
She did not say if the rest of the loan would now be cancelled.
The price cut had also been demanded by former Prime Minister Nawaz Sharif's Pakistan Muslim League when it held emergency talks with Mr Gilani's Pakistan People's Party this week.
The prime minister could continue to rule with a minority coalition, but would have to step down if he lost a confidence motion. MPs would then either have to vote on another candidate or request an election.