Four die in tribal clashes in India's north-east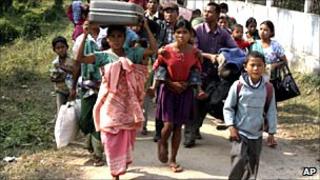 Four tribespeople have died in violence on the border of the north-eastern Indian states of Assam and Meghalaya.
Thousands of people have been displaced in the clashes between the Rabha and Garo tribes in the past 24 hours.
An indefinite curfew has been imposed on the area since midnight, but tension remained high, police said.
Trouble has been brewing in the Krishnai area since Rabhas and Garos clashed on Christmas Day after a fight at a marriage ceremony.
On Wednesday, three Garos were stopped by Rabhas and clubbed to death. Eight others were critically wounded, police said.
They said a Rabha tribesman had been shot dead on the Assam side of the border by security forces for creating trouble.
On Thursday, thousands of Garos armed with machetes, locally-made guns and spears descended from the East Garo Hills district of Meghalaya into Assam's Goalpara district and set fire to hundreds of houses in seven Rabha villages around the Krishnai area.
It is not yet clear whether there were any casualties but thousands of Rabhas have fled the villages and taken shelter in makeshift camps set up by the administration.
Meghalaya Chief Minister Mukul Sangma and Assam Chief Minister Tarun Gogoi have both appealed for peace and hundreds of armed policemen and border guards have been sent to the area.