Cricket tribunal to hear charges against Pakistan trio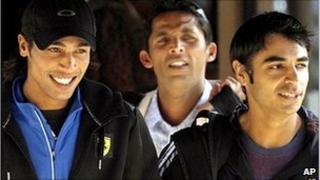 An inquiry into alleged corruption by members of the Pakistani cricket team is due to begin in Qatar.
An independent panel in Doha will judge if Mohammad Amir, Salman Butt and Mohammad Asif committed spot-fixing offences in the fourth Test against England last August.
They were suspended in September amid charges of bowling deliberate no-balls.
The players, who could face a lifetime ban if found guilty, have denied the allegations.
The tribunal is scheduled to last no longer than six days, and a judgment is likely by 11 January.
Thursday's proceedings will begin with a statement from the International Cricket Council (ICC) presenting its case against each of the players, before Amir, Butt and Asif will be allowed to respond.
Once those formalities are complete, the ICC will then detail its evidence, which will include testimony from witnesses both at the hearing and by telephone.
Both the players and tribunal members can question witnesses.
The players will then present their defence, after which the witnesses can be cross-examined again.
'Worst scandal'
Pakistan's Twenty20 and one-day captain Shahid Afridi will join coach Waqar Younis as witnesses at the request of the ICC, however it is not clear whether their testimony will be used against their former colleagues.
Following closing statements, the tribunal will retire to deliberate on its verdicts before any sanctions are decided upon.
How and when these might be announced to the players or the public has yet to be decided upon, although the ICC has said the players will learn of any punishment verbally "if time allows".
The former captain Salman Butt, Mohammad Asif and Mohammad Amir were provisionally suspended after the allegations of corruption surfaced during last year's tour of England.
A British newspaper said the trio had been working for an alleged gambling syndicate.
They were accused of manipulating parts of the game in a scam known as spot fixing, which they have denied.
The newspaper reported they had been given money to organise the deliberate bowling of no-balls at pre-determined moments of the fourth test match.
Police questioned the three men and raided the Pakistan team hotel in London.
The scandal has been described as the worst in the game since the former South Africa captain Hanse Cronje was found to have been accepting bribes in return for influencing the course of matches a decade ago, says the BBC's Alex Capstick.