Cold snap forces closure of Delhi schools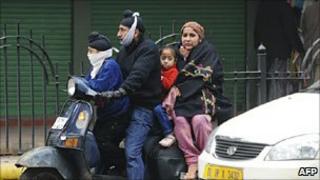 A continuing cold snap has prompted authorities in the Indian capital to keep schools closed until Sunday.
Delhi has been badly hit by the cold, along with Indian-administered Kashmir and the states of Haryana, Punjab and Uttar Pradesh.
Temperatures have been hovering around 4C after dipping to 3.7C on Tuesday morning, the city's lowest this winter.
The death toll in the cold snap that has disrupted life across northern India has reportedly risen to 47.
'Numbing cold'
The Delhi government has ordered all schools in the city to remain closed until Sunday because of the cold weather.
The city's education minister, Arvinder Singh Lovely, said the decision had been taken after a large number of parents and schools asked for the closure because of the "extreme weather conditions".
The temperature dipped to 4.2C on Wednesday, but it felt colder because of fog and a cold wind.
"The wind just numbs your hands and feet when you travel in auto-rickshaws or on a two-wheeler," Kanika Madan, a student, told The Hindu newspaper.
The weather office has said "cold wave conditions" will continue and that the minimum temperature on Thursday will remain 4C.
Meanwhile, 12 more people died in the cold snap in neighbouring Uttar Pradesh state.
Two weather-related deaths have been reported in the Indian capital since last week.
In Leh in Indian-administered Kashmir's Ladakh region, temperatures remained at -23C for the third day in a row.
Sub-zero conditions have also been recorded at the tourist resorts of Gulmarg and Pahalgam in Kashmir.
Schools have been also shut in Bihar and Rajasthan because of the low temperatures.