Citibank's Vikram Pandit cleared over Indian 'fraud'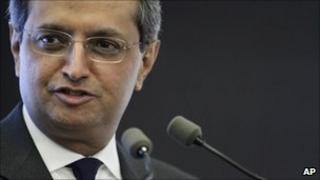 Citigroup CEO Vikram Pandit and other executives cannot be held responsible for an alleged scam at an Indian branch of the bank, Indian police have said.
Mr Pandit and US-based colleagues are unlikely to be quizzed in the fraud inquiry, police said, after a complaint by an investor blamed the executives.
Citigroup says the claims are "completely without basis".
The bank has not put a figure on the sums involved, but insiders say between $66m (£42m) and $88m was stolen.
On Tuesday, Sanjeev Aggarwal, a private-equity manager who says he lost his life savings in the alleged scam, filed a complaint accusing Mr Pandit and other top executives of a criminal breach of trust.
But SS Deswal, a police commissioner in the Delhi suburb of Gurgaon, where the alleged fraud took place, ruled out any link to Mr Pandit.
"The possibility of involvement of the global CEO... looks remote," he said on Wednesday, according to Press Trust of India news agency.
The investigation was instead focusing on several of the bank's employees in India, he said.
Charges have not been filed, but two men - Citibank manager Shivraj Puri and Sanjay Gupta, the head of a motorcycle company - have been arrested.