Sri Lankan orchestra hits right note with audiences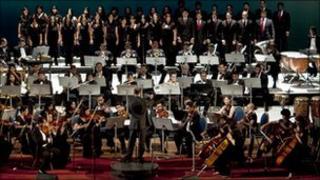 The night is warm and there is no air-conditioning - but on a Saturday evening in December, the hall of a central Colombo school is crammed with expectant crowds.
Tickets have been sold out for days. Concert-goers fill the space for the Christmas concert of the Symphony Orchestra of Sri Lanka (SOSL). A striking number are young.
A few who have turned up on the night manage to get returned tickets and conductor Eshantha Peiris embarks on the programme including Bach, Handel, Bizet, Lennon and McCartney, Franz von Suppe - and sing-along carols.
At 25, Eshantha is a lot younger than the orchestra. It gave its first concert in 1958 under a Sri Lankan musician, Hussain Sadiq Mohamed. It remains an important focus of a thriving Western classical music scene in Colombo performed mainly by Sri Lankans and rarely seen by tourists.
Eshantha is one of four main conductors, all of whom also play in the orchestra when not conducting. He is a violinist and also an accomplished and versatile pianist.
"It's a very democratically-run process," he told the BBC during rehearsals.
"When I was studying to be a pianist [at New York University] I also took a few conducting courses.
"I did discover I enjoyed the conducting and here it's something that not many people do, so I feel like it's something that I could give to the orchestra," he said.
A fair number of Sri Lankans go abroad to further their musical studies and many do well overseas. Eshantha could have done the same but instead has returned.
"One reason there are not many professional musicians in the orchestra is because there aren't that many professional musicians in the country.
"The ones who do go to study, they tend to stay on in countries where they can get regular work. So here it tends to be amateurs who do it because they love playing the music," he said.
Musical outreach
Leroy Anderson's Buglers' Holiday - a polished American showpiece - gives three trumpeters the chance to display their solo skills.
Some of the wind and brass players come from Sri Lankan military and police bands.
Ajit Abeysekera, though, is a professor of chemistry and has played clarinet in the SOSL for 40 years - since an era when the country was still called Ceylon and had not experienced war.
He says they reach out to the community by bringing in 50 school children free of charge from out of town for each concert and by sending smaller groups to the provinces.
He says this is especially important nowadays "because neither radio nor TV [in Sri Lanka] has any classical music whatsoever".
"When I was young I heard most of my music through the radio. But now young children don't get a chance," he says.
For the first concert 52 years ago, the programme carried a message from the-then prime minister, Solomon Bandaranaike, and the orchestra's patron was the representative of Queen Elizabeth on the island, which then still shared its head of state with Britain.
Today, the main concert sponsors are Standard Chartered Bank and Link Natural Products.
"There was a lot of support at that time from the ruling classes which basically came from a Westernised-cultural background. They learnt English in school, went to schools based on the British public school system," says Ajit.
"There was general appreciation about Western classical music."
Foreign support
The SOSL's main supporters and players still come from a niche market - the relatively privileged English-speaking part of society, which cuts across the ethnic divisions. But that social group is no longer at the heart of the political establishment.
On the other hand, he says, thanks to the internet more and more Sri Lankans are getting interested in Western music. Eshantha says the players get an enthusiastic reception when touring outside the city, where many people have never seen these combinations of instruments.
The orchestra is joined by two talented Sri Lankan choirs, Soul Sounds and The Revelations, for works including the main choruses from Handel's Messiah.
Dushy Perera, who leads the cello section and also plays double-bass, started with the orchestra as a child. Now she says it is "like second home".
"It's given us a lot of experience, it's given us the exposure. This is the only big orchestra we have in our country so it's a great privilege to be in it," she says.
She has set up an ensemble of 15 cellists who give a concert every July. It has helped to build up a strong cello section in the SOSL.
In the past, the orchestra has played with renowned foreign soloists. With several concerts a year it regularly invites conductors from countries including Britain and Japan.
"It brings in some outside expertise to the orchestra that we wouldn't get otherwise," says Eshantha Peiris.
As an amateur ensemble, SOSL is not note-perfect. But there is a dedicated audience in Sri Lanka. As proof, Ajit Abeysekera recalls their performance of Giuseppe Verdi's Requiem Mass, with combined Colombo choirs, in 2009.
"We catered for 1,500. We had over 2,500 people. About 1,000 stood through the whole performance.
"So there is an audience. And I always believe we shouldn't compromise on giving them good music."