Suicide attack on Balochistan chief minister's convoy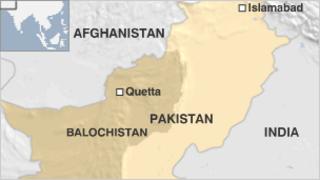 A suicide bomber has tried to kill the chief minister of Pakistan's southern province of Balochistan, blowing himself up near his convoy.
At least one person died in the blast but Chief Minister Nawab Muhammad Aslam Khan Raisani escaped harm as he was in another vehicle, police said.
Four people were injured when the bomber attacked the motorcade in the provincial capital Quetta.
Balochistan has been at the centre of a decade-long separatist insurgency.
Mr Raisani, an influential tribal leader, is a member of the country's ruling Pakistan People's Party.
It is the second time this month that a senior government official has been attacked in Balochistan.
Provincial Governor Nawab Zulfiqar Magsi was lucky to escape with his life when his convoy was hit by a roadside bomb in Kalat district on 1 December.
The Baloch Liberation Army, an insurgent group, said it carried out that attack.
As well as a decade-long insurgency, Balochistan has Taliban militants and Islamist groups in its provincial capital and northern districts.