US drone attack kills five 'militants' in Pakistan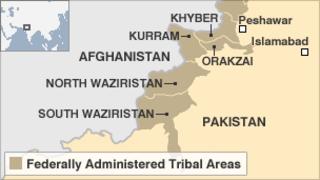 Five suspected militants have died in a US drone strike in north-western Pakistan, Pakistani officials say.
They say the missiles, fired from a pilotless US aircraft, struck a vehicle and a building in the North Waziristan tribal region near the Afghan border.
The lawless region, a haven for members of the Taliban and al-Qaeda, has been repeatedly targeted by US drones.
There have been more than 100 such attacks throughout 2010, nearly all of which have hit North Waziristan.
Muslim extremists are believed to run a virtual mini-state in the area, outside the Pakistani government's control.
Monday's drone attack happened in the Khysor area of North Waziristan, reports said.
Pakistan publicly criticises drone attacks, saying they fuel support for militants. But observers say officials privately condone the strikes.
The US military and the CIA do not routinely confirm that they have launched drone operations, but analysts say only American forces have deployed such aircraft in the region.