Karzai abandons plan to scrap private security firms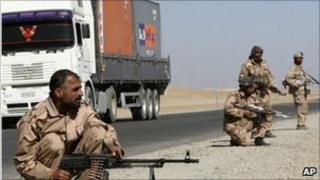 Afghan President Hamid Karzai has abandoned plans to scrap private security firms in the country by mid-December, the interior ministry says.
Fifty-four private security firms have been dissolved in recent weeks in a drive to clamp down on the industry.
But interior ministry officials said most of the 52 mainly Afghan firms remaining would retain their licences.
Private security firms provide guards at everything from diplomatic missions, aid agencies and supply convoys.
Correspondents say that some security firms have been mired in controversy ever since the US-led invasion of Afghanistan in 2001.
In October a US Senate report found evidence that many Afghan security personnel paid with US taxpayers' money to guard American bases were hand in glove with the Taliban insurgents intent on killing coalition troops.
In August, President Karzai gave private security companies four months to end operations in Afghanistan following concerns that some contractors empowered warlords and power brokers operating outside government control.
But recently aides to the president have advised him that the move to disband the network completely was ill-advised, as the security forces could not fill the gap.
Criminal investigation
The decision to scale back plans to scrap the firms was announced by interior ministry adviser Abdul Manan Farahi.
A former counter-terrorism chief, he was appointed by the ministry - with the full support of President Karzai - to look into ways of reforming the way security firms operate.
The BBC's Bilal Sarwary in Kabul says that Monday's announcement means that many of them can stay until the end of their contracts, which in some cases do not expire for several years.
"Their future operations will continue in accordance with the law and regulations in place," Mr Farahi told a news conference in Kabul.
He said some of the 52 firms still operating remained under criminal investigation and could face closure; a list of banned companies would be announced on 17 December.
Mr Farahi said that those which remained would have to follow tighter rules. They would have to wear uniforms and would not be allowed to stop vehicles or block roads for security reasons.
In addition he announced the formation of a new and independent public security force which would begin securing international development projects as some of the private firms earmarked for closure were shut down.
Mr Karzai pledged to limit the operations of these firms when sworn in for a second term as president last year.
He said they had become a parallel security system, which undermined the development of Afghan government forces.
The private security firms are hired to protect international forces, the UN mission, aid organisations, embassies and Western media companies in Afghanistan. Many of these will now be allowed to finish their contracts, our correspondent says.
So too will the seven security firms responsible for protecting Nato supply trucks in Afghanistan.
There was no immediate response from Nato to the latest announcement.