India and France hold key nuclear talks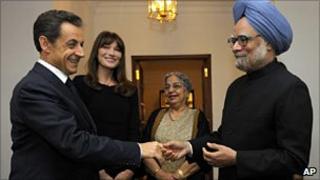 French President Nicolas Sarkozy is holding key talks on civil nuclear cooperation with Indian Prime Minister Manmohan Singh.
The two parties are expected to sign an agreement for the construction of two French nuclear reactors in India, during the meeting in Delhi.
France is a leading world exporter of civilian nuclear technology.
Mr Sarkozy is on a four-day official visit to India. On Saturday, he visited a space research facility in Bangalore.
The president has backed India's bid for a permanent seat at the UN Security Council and supported India's membership of the Nuclear Suppliers Group (NSG), a gathering of countries which export civil nuclear technology.
Reports say that the two countries are likely to sign an agreement paving the way for two French reactors worth nearly £6.3bn ($10bn) to be constructed in the western Indian state of Maharashtra.
Correspondents say that the deal will be good news for India - which is desperately short of energy to fuel its booming economy.
France is the world's second largest producer of nuclear energy after the United States.
It hopes to be at the forefront of an international revival of the industry which analysts say will benefit from worries about global warming and soaring energy prices.
India has 22 nuclear reactors and is seeking to expand its nuclear energy sector, opening up a market estimated at £90bn ($142bn) over 15 years.
The country - now seen as a strategic partner for both the European Union and the US - has a population of 1.1 billion.
It gets only a tiny fraction of its electricity from nuclear power.
Supporters of the deal say that having more nuclear plants in India could help reduce global demand for oil and gas while at the same time significantly reducing the country's pollution levels.