Nicolas Sarkozy and Manmohan Singh in nuclear deal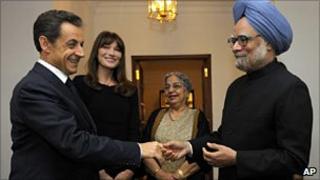 India has signed a deal to buy nuclear reactors from France, following talks between President Nicolas Sarkozy and Prime Minister Manmohan Singh in Delhi.
The agreement was signed at a ceremony attended by the two leaders.
The president said that in all France had clinched deals worth about $20bn (£13.5bn) with India.
Mr Sarkozy is on a four-day official visit, joined by his defence, foreign and finance ministers and about 60 business leaders.
Indian media reports that wife, Carla Bruni-Sarkozy, asked for a son during a blessing at a shrine.
Under the civil nuclear deal, two French reactors worth $10bn (£6.3bn) are expected to be built at Jaitapur in the western Indian state of Maharashtra, one of India's most industrialised states.
Monday's agreement was signed by the heads of French state-controlled nuclear group Areva and India's Nuclear Power Corporation.
India has 22 nuclear reactors and is seeking to expand its energy sector, opening up a market estimated at £90bn (£55bn) over 15 years.
"India's choice to trust French nuclear technology is a choice which has clearly been thought through and the result of this agreement is that we will begin by building these two EPRs (European Processing Reactors) in India," Mr Sarkozy said.
"We will do our utmost to ensure that this is done as speedily as possible."
But Indian Prime Minister Manmohan Singh said that some details of the deal had still to be ironed out.
"There are issues with regard to the other technical matters, including prices. These are the subject matter of negotiations."
France is competing with American and Russian firms for a slice of India's civilian nuclear energy market, worth an estimated $150bn, after Delhi signed a series of civilian nuclear deals that ended its status as a nuclear pariah.
Mr Sarkozy said that business deals spanning atomic energy, defence and civil aviation were comfortably better than the $10bn US President Barack Obama secured in November.
Among the deals signed was a lease agreement for Airbus commercial aircraft and a deal to modernise more than 50 French-built Mirage fighter aircraft.
France, the world's second largest producer of nuclear energy after the US, hopes to lead an international revival of the industry, which is expected to benefit from worries about global warming and soaring energy prices.
Hungry for energy to fuel its booming economy, India has a population of 1.2 billion, but gets only a tiny fraction of its electricity from nuclear power.
Supporters of the deal say that having more nuclear plants in India could help reduce global demand for oil and gas while at the same time significantly reducing the country's pollution levels.
Mr Sarkozy has backed India's bid for a permanent seat at the UN Security Council, and supported India's membership of the Nuclear Suppliers Group, a gathering of countries that export civil nuclear technology.
US President Barack Obama and British Prime Minister David Cameron have both visited India recently, as world powers look to the booming Asian giant for export opportunities.
Chinese Premier Wen Jiabao and Russian President Dmitry Medvedev are the next world leaders scheduled to sweep into Delhi.