Manipur rebel alleges secret detention in Bangladesh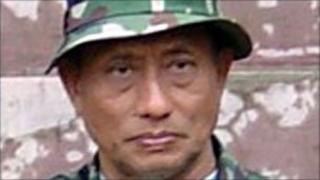 An Indian separatist leader claims he was kept in secret detention for two months in Bangladesh before being handed over to India.
Rajkumar Meghen, leader of the United National Liberation Front in north-eastern Manipur state, told a court he was arrested in Dhaka on 29 September.
He said he was held there until being handed over to India on 30 November.
But Indian police say the rebel leader was arrested in eastern Bihar state, close to India's border with Nepal.
"I was kept in secret detention for 61 days," Mr Meghen told the court in the north-eastern Indian city of Guwahati.
"Only this week, I was moved to India and shown as arrested in Bihar state."
The court remanded him for 13 days.
Crackdown since 2009
Mr Meghen's lawyer, M Gunadhar Singh, told the BBC that the court had granted his client a medical check-up every other day, and allowed his lawyer to be present during questioning.
Bangladesh has handed over more than 50 leaders and activists of Indian separatist groups since a crackdown began in 2009.
Many more have fled Bangladesh to evade capture or been caught on the border by Indian guards.
The UNLF is the oldest separatist group in India's north-east.
Formed in 1964 to fight for Manipur's liberation from India, the group is estimated to have 5,000 armed fighters.