Bangladesh Grameen Bank denies diverting cash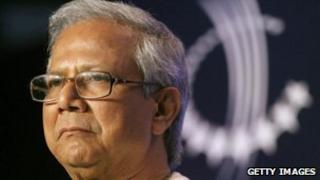 Bangladeshi micro-credit pioneer Grameen Bank has described as "total fabrication" claims the institution diverted nearly $100m of aid cash.
The denial came a day after Norway said it was examining reports relating to money from Norway, Sweden and Germany.
A documentary alleged that the cash had been transferred from Grameen Bank to other parts of Grameen.
Nobel Peace laureate Prof Muhammad Yunus set up the bank in Bangladesh in 1996 to make small loans to the poor.
The bank's 1,600-word statement said "mental agony" had been caused by an "inaccurate and misleading news report published globally regarding an alleged 'siphoning off' of a large amount money by Professor Yunus through one of his organisations".
"We wish to assure all readers that these reports are a total fabrication and baseless," it added.
Danish filmmaker Tom Heinemann claimed Prof Yunus and his associates had diverted nearly $100m of grant money to another company - Grameen Kalyan - which was not involved in micro-credit.
Archives search
The documentary claimed that after the Norwegian authorities raised objections to the alleged funds transfer, only about $30m was diverted back to Grameen Bank.
Mr Heinemann said he stumbled upon the documents which formed the basis for the allegation at the archives of Norwegian aid agency Norad in Oslo.
His film, Caught in Micro Debt, was shown on Norwegian National Television earlier this week.
Mr Heinemann told the BBC on Thursday he was not accusing Prof Yunus of misusing the money.
Grameen Bank's statement said allegations that about $100m had been transferred to another company, and that only $30m was returned to the bank, were "completely false".
It said almost all the money was returned to the bank after Norad raised the issue.
However, it admitted there had been differences between the bank and the Norwegian aid agency on the initial transfer.
The statement said it was an "honest disagreement", which was amicably resolved after the money was returned to the bank.
No corruption
The Grameen group of more than 30 companies headed by Prof Yunus is divided between those not operating for profit and those which do.
The Norwegian authorities said on Thursday they had no suspicions of corruption at Grameen Bank.
But International Development Minister Erik Solheim said that it was "totally unacceptable that aid is used for other purposes than intended".
Prof Yunus's micro-credit lending model has been replicated in other parts of the world.
The original aim of micro-credit was poverty reduction, but in recent years some lenders have been criticised over exorbitant interest rates and alleged coercive debt collection.