India court okays Dalit leader Mayawati's statues park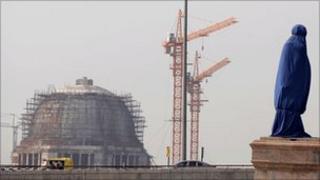 India's Supreme Court has said work can resume at a memorial park being built by Uttar Pradesh Chief Minister Mayawati in the Delhi suburb of Noida.
The court said 50% of the 75-acre park must have trees as it was close to a bird sanctuary and that only 25% could involve permanent structures.
Ms Mayawati is an icon for India's 160 million low-caste Hindus.
She is famous for building statues of herself and other Dalit icons but denies encouraging a personality cult.
'Self-glorification'
The Supreme Court has appointed a three-member expert group to ensure the park is built according to guidelines.
It had ordered the Mayawati government to stop building work in October 2009.
Huge numbers of statues commissioned by Ms Mayawati can be seen in the state capital, Lucknow, and other towns and cities of Uttar Pradesh.
Critics accuse her of self-glorification. She accuses them of conspiring against her.
Uttar Pradesh is one of India's most deprived states, with a high crime rate and poor health indicators.
Ms Mayawati's spending on statues and memorials has been described as "shameful" by India's Home Minister P Chidambaram.
Last year, she unveiled 15 new memorials, including two of herself.
Statues of political leaders are generally put up posthumously, but Ms Mayawati says that belief is outdated.