Katta Subramanya Naidu quits amid Karnataka land probe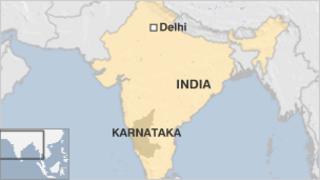 A land corruption scandal which has rocked the Hindu nationalist BJP government in India's Karnataka state has claimed its first political scalp.
IT and Biotechnology Minister Katta Subramanya Naidu quit after a sleaze watchdog filed a complaint against him.
The complaint alleges irregularities in the allotment of 385 acres to a software firm, floated by a Naidu aide.
Land scam claims have dogged the south's first BJP government, almost costing the chief minister his job.