Journalism ethics row grips India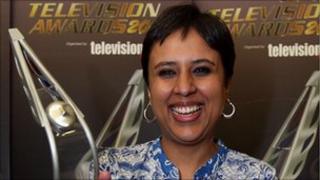 Senior editors in India are considering putting in place systems to ensure ethical practices in journalism.
The move follows a scandal involving high-profile journalists after tapes of revealing phone conversations with an influential lobbyist were leaked.
At the centre of the controversy are two well-known journalists, Vir Sanghvi and Barkha Dutt. Critics say they acted like deal-makers, not journalists.
Neither denies the conversations took place, but they deny any wrongdoing.
Ms Dutt is heard on tape offering to relay messages from the corporate lobbyist to politicians to influence the process of forming a cabinet.
Columnist Vir Sanghvi is heard offering a businessman a "rehearsed" interview.
'No grey areas'
"Journalists need to exercise their judgement and verify everything that is said by a source. There are no grey areas, it's black and white," Vinod Mehta, editor of Outlook magazine which published the tapes, said.
"Corporate lobbyists represent certain interests which should be clear to everyone."
Mr Mehta was among a number of participants who spoke in a debate held at the Press Club of India.
Rajdeep Sardesai, the editor of the TV channel CNN-Ibn, said: "Let us not overlook the fact that it is the media's unflinching attempts that have exposed these scams. Most of us are doing a very good job.
"This rot is not new - it's been around for three decades at least.
"In this competitive age, access is information which is where the politicians have co-opted the journalists. Corporate India and politicians are subverting the system," he said.
More than 100 tapes of conversations between corporate lobbyist Niira Radia and leading journalists were recorded as part of an authorised police tap.
Police were acting on a request from income tax authorities investigating the alleged mis-selling of mobile telephone licences.
Last month, federal auditors said former telecommunications minister Andimuthu Raja had undersold mobile phone licences worth billions of dollars, resulting in an estimated loss of $39bn to the exchequer.
It is not clear who leaked the tapes to the media. Transcripts of the conversations have appeared in the Open and Outlook magazines and have angered many Indians.
'Error of judgement'
In the tape recorded in the summer of 2009, Ms Dutt is heard discussing with Ms Radia who should be in the cabinet. Ms Radia was pushing for Mr Raja to be reinstated as a minister.
Ms Dutt, currently group editor at NDTV is heard assuring Ms Radia that she would speak to a senior Congress party leader on her behalf.
Barkha Dutt has apologised for "an error of judgement", but she insists that she has not done anything wrong.
Mr Sanghvi - who is heard offering a "fully scripted" and "rehearsed" television interview to Ms Radia's client, India's richest man Mukesh Ambani - says he was "just stringing her along".
Ms Radia works as a lobbyist for two of India's biggest industrialists Mukesh Ambani and Ratan Tata.
Since the leaks, Mr Tata has gone to court saying that conversations between him and Ms Radia were "personal" and that the leaks violated his right to privacy.