Wikileaks cables say Afghan President Karzai 'paranoid'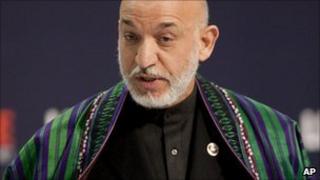 The US envoy to Kabul viewed Afghan President Hamid Karzai as "paranoid" and "weak", fresh disclosures of US diplomatic cables by Wikileaks show.
In them, Karl Eikenberry says Mr Karzai has "an inability to grasp the most rudimentary principles of state-building".
The cables also show deep concern about corruption in the Afghan government.
The documents are among the latest batch of hundreds being released by the whistle-blowing website.
In the cables dated July 2009, published by the Guardian newspaper, Mr Eikenberry says that four recent meetings with Mr Karzai were "cordial" but that they "raised certain concerns for me about the status of the US-Afghan relationship".
He says he has been "troubled" by some of Mr Karzai's views, including his belief that the US and Iran were both backing candidates running against him in the elections, held in September 2009.
Mr Eikenberry says he identifies two sides to Mr Karzai - one is a "paranoid and weak individual unfamiliar with the basics of nation building" while the other is "an ever-shrewd politician who sees himself as a nationalist hero" who can save Afghanistan from being split by political rivals.
"In order to recalibrate our relationship with Karzai, we must deal with and challenge both of these personalities," he writes.
Similar views are given in a February 2010 cable, reporting a meeting Mr Eikenberry had with Afghan Finance Minister Omar Zakhilwal.
Mr Zakhilwal describes the president as an "extremely weak man", prone to believing reports of plots against him.
In a cable from 2008, David Cameron - UK Conservative opposition leader at the time and now prime minister - is reported to have said Mr Karzai's sphere of influence was decreasing every year.
Mr Eikenberry's reports also express concern over rampant corruption in the Afghan government.
Among those accused are Mr Karzai's half-brother, Ahmad Wali Karzai, leader of the Kandahar Provincial Council, who Mr Eikenberry says is "widely understood to be corrupt and a narcotics trafficker".
The cable, dated October 2009, advises that given the leader's "reputation for shady dealings, his recommendations for large, costly infrastructure projects should be viewed with a healthy dose of skepticism".
Mr Eikenberry says the meeting in Kandahar highlighted one of the major challenges facing the US in Afghanistan: "How to fight corruption and connect the people to their government, when the key government officials are themselves corrupt."
In another cable from the same month, Mr Eikenberry cites "credible sources" in Ghazni as saying that "some of the most senior government officials in the province have chronically engaged in significant corrupt acts", including embezzlement of public funds and stealing humanitarian aid.
"Vast amounts of cash" are being smuggled out of Afghanistan - sometimes by senior government figures - with more than $190m (£121m) in cash taken through Kabul International Airport between July and August 2009, he says.
The ambassador reports that Vice-President Ahmad Zia Massoud was questioned in Dubai after arriving there with $52m (£33.4m) in cash, but was released without charge and allowed to keep the money.
Mr Eikenberry is a retired lieutenant general, and was formerly the US military commander in Afghanistan.
His critical view of Mr Karzai emerged before when, in a cable leaked to the press in November last year, he voiced his opposition to US plans to send thousands of additional troops to Afghanistan.
He suggested Mr Karzai's government should have to prove it was able and willing to tackle corruption before more troops were committed.