UN's Baroness Amos visiting Pakistan flood victims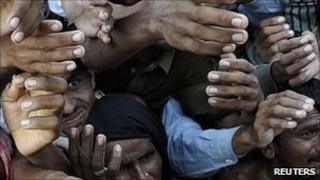 UN humanitarian chief Valerie Amos is visiting Pakistan to refocus attention on those still suffering as a result of the flood disaster earlier this year.
Baroness Amos said she wanted to let them know they had not been forgotten.
Four months after the floodwaters swept across Pakistan, a million people are still living in public buildings and camps as their homes remain underwater.
Many millions still depend on food aid. Stranded villages lacking food and clean water are still being discovered.
A UN spokesman said it was important that support and funding continued for the worst affected areas.
Large parts of the southern province of Sindh are still covered by stagnant floodwater, stretching in places for 20km (12 miles).
Usually the winter harvest is planted at this time of year, providing food for the following year.
But where fields are submerged - or contaminated by sand and silt - it has been impossible to plant.
The UN estimates it could take another two years before crops in some areas recover.