Delhi call centre worker gang rape: Two arrested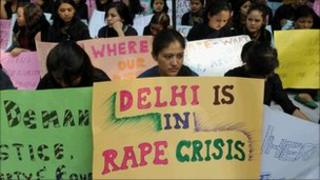 Two men have been arrested in connection with the abduction and gang rape of a call centre worker last week in the Indian capital, Delhi.
A third accused has handed himself in at a court in neighbouring Haryana state, a senior police official said.
The victim was attacked in the early hours after an office cab dropped her off near her home in south Delhi.
The 30-year-old told police she had been abducted by men in a pick-up truck who took turns to rape her.
A female colleague who was walking with her managed to escape.
Both women were from the north-eastern state of Mizoram.
The case has received a lot of publicity in India with students from north-eastern states participating in protest rallies in Delhi.
MPs from the main opposition Bharatiya Janata Party called for the resignation of Delhi Chief Minister Sheila Dikshit over the incident.
Police said 25 teams had been formed to find the rapists and sketches of suspects had been released.
A senior police official said more than 500 people had been questioned over the past few days and several hundred pick-up vans had been checked.
On Wednesday, police announced a reward of 100,000 rupees (£1,413; $2,209) for information about the culprits.
The Indian capital and its satellite cities of Gurgaon and Noida are a hub of the information technology industry and have hundreds of call centres employing large numbers of women.
Delhi is often called the "rape capital of India" - police say they have recorded 402 cases of rape so far this year.