Mahinda Rajapaksa's Oxford Union talk cancelled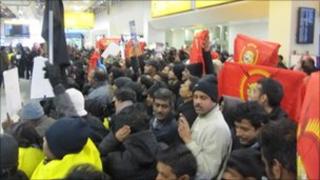 A leading British debating society has announced that it is cancelling a talk by President Mahinda Rajapaksa of Sri Lanka because of "security concerns".
A statement by the Oxford Union said that "due to the sheer scale of the expected protests, we do not feel that the talk can safely go ahead".
The president's visit has been criticised by UK-based Tamil groups.
It comes as Channel 4 News in the UK released what it said was new footage of Tamil prisoners being killed.
Channel 4 says that the footage was shot shortly before the defeat of Tamil Tiger rebels in May 2009.
The Sri Lankan government says that the video is not authentic and has been "compiled by enemies of the country who want to besmirch its international reputation".
Channel 4 says that the video is an extended version of a similar video aired 16 months ago by the TV station and features bound prisoners - some female - being shot dead amid taunts from onlookers.
It says that their "lewd and callous comments seem strongly to suggest that sexual assaults took place before their deaths".
"Since Channel 4 News received and broadcast the executions video over a year ago we have received hundreds of photographs and many more shocking videos depicting summary executions and rape," Channel 4 News Foreign Affairs Correspondent Jonathan Miller said.
"We've now sent this five minute 30 second video to the UN panel convened to determine whether or not there should be an independent international war crimes inquiry."
'Future vision'
British Tamil Forum spokesman Sam Krishna told the BBC Tamil service that he was "happy" that President Rajapaksa's talk at the Union had been cancelled.
A large group of Tamil Tiger protesters gathered at London's Heathrow Airport on Tuesday to protest against the president's visit.
Police in Oxford warned earlier on Wednesday that thousands of protesters would converge if the talk went ahead, presenting a major security challenge.
Mr Rajapaksa's secretary, Lalith Weeratunga, said that decision to cancel the talk had been made unilaterally by Union, "reportedly as a result of pressure applied" by pro-Tamil Tiger activists.
A statement released by President Rajapaksa said that he was "very sorry" the talk had to be be cancelled "but I will continue to seek venues in the UK and elsewhere where I can talk about my future vision for Sri Lanka".
"I will also continue in my efforts to unite all the people of our country whether they live in Sri Lanka or overseas," he said.