India proposes strict curbs on tele-marketers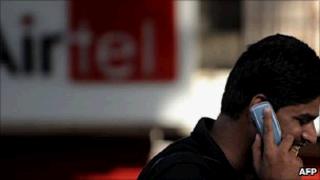 India plans to impose heavier fines on tele-marketing firms who call or send text messages to those registered on a "national do not call" list.
Firms breaking the rules could now face a fine of up to 250,000 rupees ($5,505; £3,522) for each call or text.
The present 500-rupee ($11; £7) fine is seen to have done little to deter tele-marketers.
The Telecom Regulatory Authority of India (Trai) has also barred commercial calls or messages between 9pm and 9am.
India has the fastest growing mobile phone market in the world, with more than 700 million subscribers.
Many people complain about the number of unsolicited calls and messages they are bombarded with by companies every day.
The new regulations are due to come into effect from 1 January.
Hefty fines
"The number of unsolicited commercial calls have come down drastically since the 'do not call' registry was launched in 2007, but the number of text messages has gone up exponentially," senior Trai official SK Gupta told the BBC.
To check that, Trai has suggested heftier fines - from 25,000 rupees (£353; $550) for the first offence to 250,000 rupees ($5,505; £3,522) for the sixth offence.
After the sixth offence, a firm will be blacklisted and disconnected for a period of two years, Mr Gupta said.
"Our message is clear - if you don't mend your ways, you will not be allowed to operate," he said.
Many people feel harassed by calls and text messages from tele-marketers trying to sell everything from credit cards to real estate to "slim sauna belts for weight loss".
Delhi-based Prof Alok Puranik, an expert on consumer affairs, welcomed the new regulations. But, he says, they must be followed in "letter and spirit".
"India has lots of strong rules and regulations, but we don't see anyone being tried in the court or convicted for their wrong-doings."
Prof Puranik says the new rules must be enforced.
"But, these tele-marketers are very smart, they will find a way to beat the system," he fears.
Pushpa Girimaji, who writes a weekly column on consumer rights, says her readers regularly write complaining about unsolicited calls and messages.
"Even I registered quite some time ago on the 'do not call' list, but I still get these calls. Now I don't even look at my messages any more because there is so much spam," she says.