How to get the Taliban talking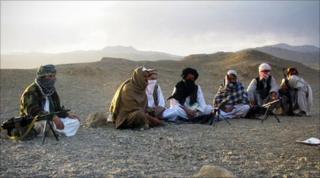 Former Taliban leaders living in Kabul say the movement should be given international safeguards to set up a political office in a third country - not Afghanistan or Pakistan - so they can hold talks with the Afghan government and the US. Guest columnist Ahmed Rashid considers the implications.
The comments were made in separate interviews by four formerly senior officials who all occupied high office in the 1990s when the Taliban ruled Afghanistan.
They did not want to be identified for security reasons.
Some were captured and held for several years by US forces before being freed. They all now live quietly in Kabul under heavy government guard.
They all said serious negotiations were possible with the Taliban leaders only when they were free to operate from a neutral venue, which could be an Arabian Gulf state or other countries such as Turkey, Germany or Japan.
Serious negotiations
Several said that with Afghanistan under its present "US occupation" - combined with the influence of Pakistan's Inter-Services Intelligence (ISI) - efforts were being made to manipulate them, which is why they needed a third country to operate more freely.
Talks about talks between the Taliban, the government of President Hamid Karzai and other interlocutors such as the UN have been ongoing since 2008 in Saudi Arabia and elsewhere, but they have not moved forward into serious negotiations.
President Karzai adamantly told me that only talks with the Taliban could end the war, while the head of Nato forces in Afghanistan, Gen David Petraeus, is still sceptical - he says that more time must be given to the military to weaken the Taliban.
However there will be enormous hesitancy by the US and Nato to accept talks with the Taliban after the recent fiasco when Western intelligence allowed an impostor pretending to be Maulvi Mansour, the number two Taliban leader, to meet President Karzai.
The impostor was paid a large sum of money.
With most Afghans and Americans unable to recognise senior Taliban figures because there are no photos of them, this incident has created a huge dampener on attempts to organise meetings with the Taliban.
The four Taliban in Kabul had common suggestions for moving talks forward.
They all called for a release of Taliban prisoners held by the Americans in Guantanamo Bay and Bagram, the main US base in Afghanistan.
They also want the removal of named Taliban leaders from a blacklist that is maintained by the UN.
The list - called UN Security Council Resolution 1267 - was first drawn up in 1998 and has 433 al-Qaeda and Taliban names on it.
Of these, 45 were recently removed after a request by the Afghan government - a move made to provide the Taliban with a confidence-building measure.
'Forsake al-Qaeda'
Afghan UN ambassador Zahir Tanin has asked for 10 more Taliban names to be removed from the list.
The government also wants the thorny issue of power-sharing not to be discussed during the first stage of negotiations - it says that before that both sides should agree on a common definition of the Afghan state.
The more sensible Taliban leaders recognise that if they could not fully run the country in the 1990s, it is unlikely that they will ever be able to do so again.
They reason that rather than try to seize power now and risk international isolation and no money from the international community, it would be better to negotiate a power-sharing formula with President Karzai and thereby retain aid and international legitimacy.
At the same time, many Taliban are fed up with Pakistan's ISI which they say has been trying to manipulate them for years, but on which their dependency has also grown.
Pakistan's military has a clearly defined policy of protecting the sanctuaries of the Afghan Taliban while chasing the Pakistani Taliban.
However, after the arrest of several leading Taliban figures this year by the ISI - and by refusing to accept President Karzai's appeal for their release - tensions have grown between the Taliban and the ISI.
One sign of the Taliban's desire to come out of the ISI's shadow can be seen by the Taliban's recent rhetoric and public statements.
They have been less jihadist and more nationalistic and patriotic about the need for all Afghans to unite.
They have in addition purposely distanced themselves from becoming a mouthpiece for Pakistan.
In an earlier statement the Taliban strongly hinted that they are ready to forsake al-Qaeda and any other global jihadist groups that may want to use Afghan soil for "terrorist" ends.
However, the Americans want an absolutely categorical statement that the Taliban have renounced al-Qaeda before they will talk to them.
The prospects for peace in Afghanistan remain delicately balanced.
Ahmed Rashid's book, Taliban, was updated and reissued recently on the 10th anniversary of its publication. His latest book is Descent into Chaos - The US and the Disaster in Pakistan, Afghanistan and Central Asia.