Commonwealth Games officials' homes raided in India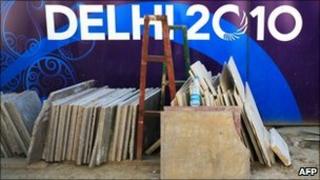 Indian police have raided 11 locations in connection with alleged financial malpractices at the Commonwealth Games.
Searches have taken place at the homes of organising committee secretary general Lalit Bhanot and director general VK Verma.
Both men have denied any wrongdoing. Three Games officials have been arrested on corruption charges so far.
Games organising committee chief Suresh Kalmadi resigned from the Congress party earlier this month.
He has been under investigation over claims of corruption at October's sporting spectacular in Delhi, and also denies any wrongdoing.
Mr Verma told the AFP news agency that he was innocent and had acted with "due diligence" while awarding contracts in connection with the Games.
The build-up to the event was overshadowed by revelations of sleaze, incompetence and missed construction deadlines.
Last month, Prime Minister Manmohan Singh ordered an investigation into the alleged corruption at the Games.
The budget for the event - held in Delhi - ballooned to an estimated $6bn (£3.87bn) - with the Central Vigilance Commission (CVC) receiving complaints alleging up to $1.8bn (£1.16bn) of Games money was misappropriated.
A CVC report into the Games said that poor quality materials were used and there were massive cost overruns on construction projects.
Senior Games officials TS Darbari and Sanjay Mohindroo were arrested over charges of irregularities over the awarding of Games contracts linked to the Queen's Baton Relay in London last year.
Treasurer M Jayachandran was arrested in connection with an alleged scam to award contracts to companies at inflated prices.
His predecessor, Anil Khanna, quit in August after claims an Australian firm won the contract to lay tennis courts for the Games because his son headed its Indian arm.