Pakistan floods: families braced for a harsh winter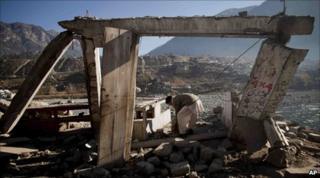 Utror nestles in the mountains in Swat in north-west Pakistan and is bracing itself for winter.
The rocky peaks which surround it are already covered with snow.
Soon the snow will fall in Utror as well - and, in the depth of winter, it's often 4-5m (13-16ft) deep.
This year, families here will find it hard to survive.
The flash floods which hit the region more than three months ago destroyed local houses, damaged roads which connected Utror to the outside world and ruined the main produce, potatoes.
Lifeline
Zar Pari is a strong-faced matriarch and I met her inside her traditional home, four rooms set round a closed courtyard.
Her family of 11, spanning three generations, clustered round. Behind me, a smoky wood burning stove provided the only heat.
"Our crops have all been washed away," she told me. "And look up at the ceiling. The roof was badly damaged and I don't have the money to repair it. The only food we have now is brought to us by foreigners. We live on that."
She was referring to the international aid supplied to Utror and surrounding communities by the World Food Programme and the US government.
Goods including sacks of flour, boxes of high-energy biscuits and cooking oil have been flown in on a daily basis since the flood by US military helicopters.
They have provided a lifeline. Helicopters are the only way of getting aid quickly to this remote region, especially since so many roads and bridges have been destroyed.
Snow sets in
But all that is about to change. With the US military operation having finished at the end of November, future aid will travel by land. Many in the community are worried.
"Whatever food they're giving us, we eat straightaway because it's all we have," said Zar Pari's elderly neighbour.
"When they stop the helicopters, I don't know how we're going to get food. All we can do is hope that God will help us."
About a third of the families in Utror have left, heading for lower ground for the winter before the snow sets in.
Many had to walk because few vehicles can manage the broken roads.
Some were driven away because they simply did not have adequate shelter for the winter.
As many as 300 houses, mostly close to the river, were destroyed by floodwater.
Reconstruction has started but it will clearly be a long, slow process.
Zar Pari's two sons run a stall selling tea and meals. One of them, Bakht Hussain, joined the conversation.
The stall had been forced to close, he said. There were no customers because no-one had money.
With the potato crop ruined and the stall abandoned, the family has not been able to earn money to buy food stocks for winter.
Once the snows fell, they would be cut off - with very little food.
"People here have lost everything," he said.
"All their farmland and crops. I ask the government to give us some work. Maybe one person from each household could have some employment. That way, we could earn money."