Police in Indian Kashmir 'kill leading militant'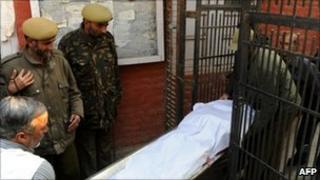 Police in Indian-administered Kashmir say that they and the army have killed a senior commander of the Lashkar-e-Taiba (LeT) militant group.
They said the leader had been killed, along with another LeT militant, near the border town of Handwara.
Both men died after a joint operation was launched against the militants, they added.
Meanwhile, police in Srinagar say three suspected militants and a policeman were killed on Monday in a gun battle.
Officers said gunfire had erupted in a busy market on the outskirts of the city when a police patrol was ambushed. They said a head constable had been killed, and shoppers were sent scurrying for cover.
However, the BBC's Altaf Hussain, in Srinagar, says that questions are being asked about police claims that the trio were riding a motorcycle when they were killed in retaliatory fire.
Our correspondent says that some locals have pointed out that their bodies would not have been found in different places if they all had been on a motorcycle.
However, police said those officers who were shot at had displayed "bravery and patience so there were no civilian casualties".
'Big achievement'
Officers said the LeT's divisional commander for north Kashmir, Abdul Rehman - also known as Naveed - had ben killed in the Handwara clash.
Both the dead men in the encounter were said to have been Pakistani nationals.
Kashmir police Inspector General Shiv Murari Sahai told a news conference that the killing of Abdul Rehman had been a "big achievement for the Indian security forces and a major setback for the LeT".
Police said Mr Rehman had been active in the area for four years.