Bangladesh court upholds opposition leader's eviction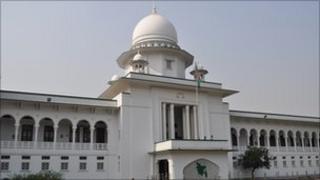 The Bangladeshi Supreme Court has rejected an appeal by former Prime Minister Khaleda Zia against her eviction from a military-owned house.
Ms Zia, the leader of the Bangladesh Nationalist Party (BNP), was forced to leave the residence in the capital Dhaka earlier this month.
She had lived there for nearly 40 years. The BNP has called another strike against the eviction on Tuesday.
The protest is the second such strike to be held over the last two weeks.
"The Supreme Court dismissed the appeal of the former prime minister and she has no further avenues to appeal at present," Assistant Attorney-General Ekram Ul Haque Tutul told the BBC.
The government cancelled the lease to the house last year, saying it was unlawful.
The house was leased to Ms Zia one year after the assassination of her husband, former President General Zia-ur-Rahman, in a military coup in 1981.
'Severely disruptive'
Ms Zia's supporters say the move to oust her is for political reasons, but the government has denied any role in the court's decision.
Senior BNP leader Khandaker Delwar Hossain said he was unhappy with the court's decision.
The eviction on 13 November triggered violent protests in Dhaka with many opposition supporters injured in clashes with the security forces.
The BNP says that Tuesday's strike will be in protest at what it calls the inability of the government led by the Awami League to run the country.
Opposition supporters have been holding rallies for the last few days ahead of the planned strike and the BNP leaders say hundreds of their supporters have been taken into custody.
But officials say the security forces are detaining only those who have been accused in specific cases.
Business leaders and civil society activists have urged the BNP to cancel the strike, saying it will severely disrupt normal life and commercial activities.
Analysts here warn that if the two main parties do not resolve their differences soon, the country may witness another round of strikes and violence.