Amnesty appeals for information on arrested India rebel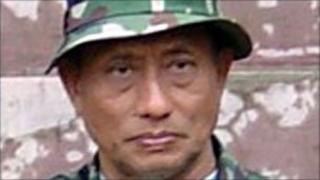 UK-based Amnesty International has asked India and Bangladesh to disclose the whereabouts of a separatist leader from India's Manipur state.
Rajkumar Meghen, who leads the United National Liberation Front (UNLF), was held by Bangladeshi police in September and handed over to Indian authorities.
Earlier, his son told the BBC that the family was "very worried" for Mr Meghen's safety.
The UNLF is the oldest separatist group in India's north-east.
Formed in 1964 to fight for Manipur's liberation from India, the group is estimated to have 5,000 armed fighters.
It is the only group that has managed to retain territory in some areas of Manipur's borders with Burma, despite repeated military offensives by the Indian army.
Mr Meghen, whose alias is Sanayaima, was flown out of Bangladesh recently in an Indian aircraft, senior Indian officials told the BBC earlier this month.
Indian authorities have not commented publicly on Mr Meghen's whereabouts.
"Amnesty have told us they have written to the Indian and Bangladeshi governments seeking the whereabouts of Rajkumar Meghen," Mohammed Baniyamin, general secretary of the Manipur-based Family of the Involuntarily Disappeareds Association, said.
He said Amnesty had asked Delhi and Dhaka to allow Mr Meghen access to lawyers to defend himself.
Mr Baniyamin said Amnesty was yet to hear from either of the two governments.
Mr Meghen's wife Ibengmungshi Devi has also appealed to the United Nations High Commissioner for Refugees (UNHCR) to trace her husband.
She has also filed a petition in the court.
Hundreds of Manipuris have mysteriously disappeared in the last few years after Indian security forces intensified their anti-separatist campaign in the state where more than a dozen rebel groups are active.
Many were found dead later.
Bangladesh has handed over more than 50 leaders and activists of Indian separatist groups since a crackdown began in 2009.
Many more have fled Bangladesh to evade capture or been caught on the border by Indian guards.