India Congress MP quits party and parliament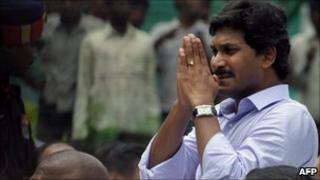 Indian Congress MP YS Jagan Mohan Reddy has quit the party and parliament after his television channel aired a programme criticising party leaders.
Sakshi television recently criticised Congress chief Sonia Gandhi, her son, Rahul Gandhi, and PM Manmohan Singh.
Mr Reddy has been in conflict with Congress since the party ignored his bid for the chief minister's post after the death of his father last year.
YSR Reddy was a popular chief minister who died in a helicopter crash.
Mr Jagan Reddy is launching a new party - YSR Congress - an aide said.
In his letter to Mrs Gandhi, Mr Reddy writes: "I have been suffering humiliation in silence during the last 14 months.
"A malicious campaign was being unleashed against me, my family and lastly against my late father and a great leader of masses Dr YS Rajasekhara Reddy."
His mother, Vijayamma, would also resign from the Congress and quit the state assembly of which she is a member, according to reports.
In a five-page "open letter", first read out on Sakshi TV on Monday morning, Mr Reddy accused the Congress party leadership of trying to divide his family.
He said he was resigning because the party had "humiliated" his family.
After YSR Reddy died in a helicopter crash in September last year, some of his supporters launched a campaign to install his son as his successor.
The party leadership, however, chose to appoint K Rosaiah as the chief minister.
Mr Rosaiah resigned last week on health grounds and he was replaced by Kiran Kumar Reddy (no relation).