Mass arrests before Bangladesh strike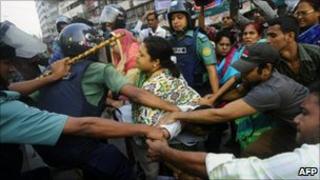 The main opposition in Bangladesh says nearly 1,000 party leaders and supporters have been arrested ahead of a general strike planned for Tuesday.
Officials say they are arresting only those who might indulge in violence during the strike.
The BNP has been holding rallies across the country for the last few days in protest at what they describe as anti-democratic moves by the government.
In many places police used tear gas and batons to disperse activists.
The BNP has called for a strike on Tuesday in protest against what it calls the Awami League-led government's inability to govern the country and its dictatorial methods.
It will be the second such opposition-sponsored action in about two weeks.
Business leaders and civil society activists have already urged the BNP to cancel, saying it will severely disrupt normal life and commercial activities.
The strike comes two weeks after BNP party leader Begum Khaleda Zia was evicted from her residence in military-owned house in the capital, Dhaka.
The house was leased to Ms Zia, a year after the assassination of her husband - former president General Zia-ur-Rahman - in a military coup in 1981.
The government said the lease to the house was illegal.
Her supporters argue that she should be allowed to stay in the house and the government's decision to evict her was political.
Analysts warn that if the two main parties do not resolve their differences soon, then the country may witness a series of strikes in the coming weeks.