Swift justice in Bangladesh teacher harassment case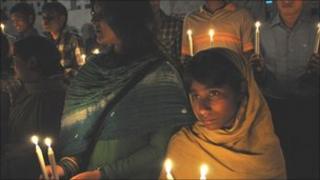 A college teacher in Bangladesh has been sentenced to a year's imprisonment on charges of harassing a student.
The 19-year-old female student had alleged the teacher, named as Saiful Islam, harassed her during an admission test for a Dhaka University course.
She also said the teacher made obscene gestures and repeatedly asked her to phone him after the test.
Following her complaint, the university immediately asked the police to bring the mobile court to investigate.
"The mobile court found the teacher guilty of harassing the girl based on statements from the witnesses, including a fellow teacher," a Dhaka University spokesman said.
"We are disappointed that a teacher from our college has been found guilty of such a deplorable activity."
The decision is the latest in a series of verdicts given by the mobile courts on those accused of the sexual harassment of women.
Stalkers
The courts were given the powers earlier this month after a sharp increase in the number of cases of sexual harassment and stalking of women in Bangladesh.
They have punished a number of people across the country in the last few weeks who were accused of stalking and bullying.
Until recently, the mobile courts dealt with less serious crimes, such as traffic violations and hoarding.
Young women often face verbal abuse and taunts in Bangladesh, and are sometimes stalked by colleagues at school or other young men.
Activists say more than 20 girls have committed suicide this year because of sexual harassment or Eve teasing as it's known in Bangladesh.
Usually, it takes weeks before these cases can be heard in a normal criminal court and the conviction rate is said to be very low.
Now the government hopes that speedy trials by mobile courts will act as a deterrent to others.
But there are concerns that the courts can be misused and people can exploit the system to settle scores.
Since mobile courts quickly process these cases based on complaints from the victims and witness accounts there are worries that the accused may not get a fair trial.