Karzai aide blames British for Taliban impostor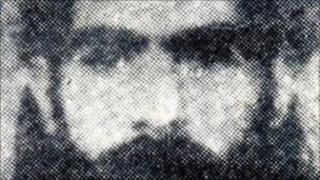 President Hamid Karzai's chief of staff has said British authorities brought a fake Taliban commander into sensitive meetings with the Afghan government.
The British embassy refused to confirm or deny the remarks, made in an interview with the Washington Post.
A man named as Mullah Mansour, a senior Taliban commander, was flown to Kabul to meet President Karzai.
Now it is claimed he was really an Afghan shopkeeper who had been living in Pakistan.
British government sources say the man was introduced to British agents by the Afghan security service and that the UK was merely helping to facilitate Afghan-to-Afghan negotiations.
Reports say he vanished after being paid hundreds of thousands of dollars.
UK officials told the BBC's security correspondent Frank Gardner that no British taxpayers' money was used to fund the bogus negotiator.
They say the money paid to him was Afghan government money and was a fraction of the amount mentioned in some press reports.
But they confirmed the man in question had disappeared.
The impersonator reportedly met officials three times and was even flown on a Nato aircraft to Kabul.
Mystery man
But doubts arose after an Afghan who knew Mullah Mansour said he did not recognise the man.
Mr Karzai's chief of staff, Mohammad Umer Daudzai, told the Washington Post British diplomats had brought the impostor to meet Mr Karzai in July or August.
"The last lesson we draw from this: International partners should not get excited so quickly with those kind of things," Mr Daudzai told the newspaper.
He added: "Afghans know this business, how to handle it. We handle it with care, we handle it with a result-based approach, with very less damage to all the other processes."
Unnamed senior US officials told the Washington Post that the Mansour impersonator was "the Brits' guy".
They said the Americans had "healthy scepticism" from the start because their intelligence had suggested Mullah Mansour would be a few inches taller than the man claiming to be the Taliban commander.
The UK's Times newspaper reports that the impostor was promoted by British overseas intelligence agency MI6, which was convinced it had achieved a major breakthrough.
The real identity of the faker is something of a mystery, although Frank Gardner says he appears to be an Afghan shopkeeper who had been based in the Pakistani city of Quetta.
It is still not clear whether he had any links to the Taliban or if he was simply a conman.
Another theory circulated suggesting that he could have been a Pakistani intelligence agent.
Western diplomats have previously conceded that some of those claiming to represent the Taliban have turned out to be frauds.
The real Mr Mansour was civil aviation minister during Taliban rule and is now said to be in charge of weapons procurement for the insurgents.
The Afghan government's meetings with the Taliban - fake or otherwise - have been described as contacts rather than negotiations.