Curfew in Srinagar to stop protest at graveyard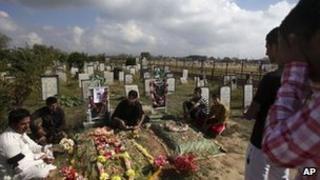 Authorities in Indian-administered Kashmir have imposed a curfew in parts of Srinagar city to prevent people from converging at the "martyrs' graveyard".
Separatist leader Syed Ali Shah Geelani asked people to bring a brick to build a wall for those killed in 20 years of resistance against Indian rule.
More than 50,000 people have died in the armed conflict between the separatists and the security forces.
The armed conflict has subsided in recent years.
But, the region has seen massive public protests in the past three years. 
Since June, the Muslim-majority Kashmir Valley has seen numerous curfews as the authorities seek to curb protests called by the separatists.
At least 111 Kashmiris, many of them teenagers, have died in clashes with police during the disturbances.