Afghan leader urges losing candidates to avoid violence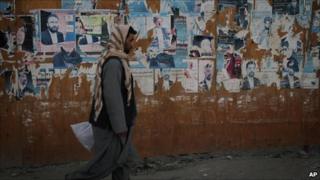 Afghan President Hamid Karzai has urged unsuccessful candidates in September's parliamentary elections not to resort to violence, but instead lodge complaints with the judiciary.
The attorney-general says he has arrested eight people in connection with alleged fraud during polling.
They are believed to include senior officials from the country's Independent Electoral Commission (IEC).
In Herat, disqualified candidates have been burning voter registration cards.
It was just one of several small protests in recent days against results from the poll.
Deeply flawed
President Karzai has stepped in to insist that such protests should not be violent or disorderly - a significant action since many of the unsuccessful candidates are his allies.
"The president... calls on unhappy candidates and their supporters to avoid violence and disorder and take their complaints to the legal authorities to be addressed in the light of the law," his office said.
Another outcome of the election is that Pashtun-speaking candidates did not do well - leading some to warn that the composition of the new parliament could destabilise Afghanistan.
Mr Karzai's supporters had been accused of putting behind-the-scenes pressure on the Independent Electoral Commission to try to alter the results, declared final only on Wednesday.
The latest twist in this saga is that the attorney-general has arrested several members of the IEC, accusing them of taking bribes.
Five cases of alleged bribery are being looked at - with the going rate for a parliamentary seat supposedly ranging from $8,000 (£5,067) to $220,000 (£139,329).
There is no doubt that the Afghan election was deeply flawed - some 1.3m votes, almost a quarter of the total, were declared invalid.
But the result has been internationally accepted.
And despite the attorney-general's actions, the implication of President Karzai's statement is that he too accepts the result and will not stand in the way of the new parliament.