Afghanistan and Bangladesh reach cricket final in China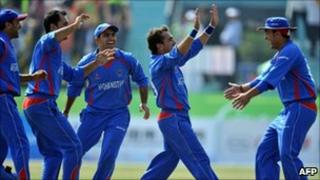 The cricket teams of Afghanistan and Bangladesh have both caused upsets in the semi-finals of the Twenty20 tournament at the Asian Games in China.
The countries will now compete in the final after beating their highly-rated opponents - Pakistan and Sri Lanka.
Afghanistan scored 125-8 in 20 overs and then held Pakistan to 103-7, giving them a surprise 22-run win.
Bangladesh then beat Sri Lanka by five wickets, surpassing Sri Lanka's total of 101 with 4.4 overs to spare.
The final will be held Friday in the city of Guangzhou, where cricket has been included in the Asian Games for the first time.
The Afghan win triggered big celebrations at home, where cricket is rapidly growing in popularity.
The BBC's Alex Capstick says it was an historic day for the Afghan team - even against a supposedly weakened Pakistan they were not expected to prevail.
"I know more than 500,000 people back in my city of Jalalabad would have already started celebrating," Afghan all-rounder Karim Khan Sadeq told the Associated Press.
As the last Pakistan wicket fell, many of the Afghan players fell to their knees and kissed the ground. President Hamid Karzai sent his congratulations.
Our correspondent say that Afghan cricket has come a long way since refugees - camped in Pakistan following the Soviet invasion in the 1980s - began playing the sport.
The national team achieved celebrity status when it qualified for the Twenty20 World Cup finals in the Caribbean earlier this year.
Facilities in Afghanistan are basic, but there are a growing number of cricket academies.
A large ground in Kabul is being renovated and there are plans to build a new stadium in Jalalabad.
'Something to smile about'
But it was not all disappointment for Pakistan.
Hockey players Sohail Abbas and Rehan Butt both scored as their team regained the Asian Games hockey gold medal after 20 years with a 2-0 victory over Malaysia.
"With so many bad things happening in Pakistan, like terrorism and floods, I think today we have given our countrymen something to smile about," Abbas said.
In other results, Indian male and female runners won gold medals in the 400m hurdles. Abraham Ganapathiplackal won the men's race and Ashwini Akkunji the women's race.