Bihar sends message of change to India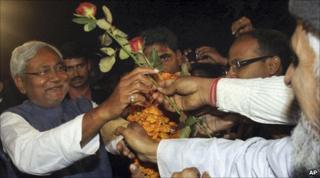 Nearly everybody was expecting the chief minister of the northern Indian state of Bihar, Nitish Kumar, to be re-elected.
But few political observers predicted the scale of his victory in a state once renowned for its lawlessness and corruption.
In his post-result press conference even Nitish Kumar admitted to being somewhat surprised by the landslide.
It's the biggest win recorded by any political combination in northern India for decades.
In an unequivocal endorsement of the governance and policies of Nitish Kumar, the people of Bihar gave him more than 80% of seats in the 243-member provincial assembly.
The big question is - should the Bihar election results be seen as some kind of a game-changer in the context of Indian politics?
Not least because Bihar is one of India's biggest states with a population of about 90 million.
In the past, too, the state has been a trend setter, particularly in the politically crucial Hindi heartland.
Simple message
Bihar became the crucible of the social justice movement in India about 25 years ago which gave a voice to the so-called backward castes, the poor and the downtrodden in the higher echelons of the power structure. Until then they had been the exclusive preserve of the well-heeled and the upper castes.
But one rather not so progressive fallout of this otherwise welcome affirmative action was that identity-based politics came to occupy the centre stage and virtually everything else was relegated to the background.
In the past couple of decades elections began to get decided on issues of caste, and regional and religious identities as all other factors became less relevant.
But now the message of change is ringing out loud and clear from Bihar.
The voters of one of India's most politically savvy states have point blank refused to be swayed by emotive sloganeering, rabble-rousing issues and tired old cliches.
Instead, they have voted for a government which promised - and delivered - good administration.
In each of his election speeches Nitish Kumar kept the message simple and direct.
"There is still a lot to be done. Bihar's turnaround story has only just begun. Give me another five years and I will make Bihar into a developed state."
It's remarkable how the people of Bihar have so wholeheartedly bought into Nitish Kumar's promise.
Maybe because he delivered on the promises made five years ago.
Delivering on promises
He managed the expectations of his people quite well by not making any empty boasts and tall claims.
He was quite miserly in giving his word - but delivered more than he promised.
So, he promised a safe Bihar and delivered on that. He talked of better roads, better schools with more empowerment for girls and creating an ethos conducive to development.
The changes on the ground were there for everyone to see.
The Bihar result has also come at a time when there is a stalemate in the national parliament and it can only add to the woes of the government led by Prime Minister Manmohan Singh.
The Congress-led governing alliance and the opposition parties are locked in combat, unable to agree on how to investigate a multi billion-dollar scandal over the allocation of mobile phone spectrum licenses.
Government auditors say the scam has resulted in a revenue loss of an estimated $40bn to the national exchequer.
The immediate consequence of the Bihar result is that it is likely to further embolden the BJP-led opposition to embarrass the already cornered federal government on corruption-related issues.
But more significant perhaps will be the medium to long-term impact of this result.
The unravelling of one corruption scandal after another in the past few weeks has left many in India feeling cynical, angry and frustrated.
Against this backdrop, the Bihar verdict is being seen by some as a signal of hope and optimism wherein good governance is being appreciated and rewarded by the voters.
The result is also being viewed as a victory of substance over style, of character and performance over flamboyance and charisma.
Nitish Kumar's principal adversary in the state was former federal railways minister Laloo Prasad Yadav, one of India's most colourful politicians.
In his prime, there were few leaders in India who could rival Mr Yadav's charisma and popularity.
By contrast, Nitish Kumar embodies all that is the opposite of charisma. There is little bravado in his speeches.
His oratory is fairly bland and matter of fact.
He engages with people but there are never hordes just waiting to catch a glimpse of him, shake his hands or just touch him.
But he connects with people in his own understated, simple and matter-of-fact style.
There is a ring of sincerity around him which can in times to come - and if he delivers on his promises this time around as well - assume the proportions of a halo.
So this result is perhaps a wake-up call here for both the Congress party - which got its worst drubbing ever in Bihar by being reduced to just four seats - and its young leader Rahul Gandhi.
The combination of carrying one of India's most revered family names, good looks, a dimpled smile and a sincere, honest approach to politics have made the young Gandhi one of India's most charismatic leaders.
But despite his relentless campaigning in Bihar, the only thing noticeable in the result is the magnitude of the Congress party's failure in the state.
The Congress will have to rethink its strategy in states like Bihar and will have to develop a strong and credible second line of leadership if it wishes to retain its power base in the run-up to some crucial state elections in the next couple of years.