India 'witch doctor' held over child killings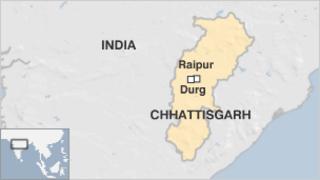 Police in India have arrested an alleged witch doctor accused of killing two children.
The man was arrested after a two-year-old boy's body was found in his home in Durg district, 45km (30 miles) from the Chhattisgarh state capital, Raipur.
Raids also revealed the skeletal remains of an eight-year-old girl from the house, police told the BBC.
They say that the accused man confessed to killing both children to acquire "occult power and good fortune".
Witchcraft and occult beliefs persist in remote areas. Some think that child sacrifices will improve their lives.
Parents of two-year-old Chirag lodged a complaint after the toddler went missing while playing on the street, police said.
The house of the alleged witch doctor was raided and the body was found hidden under a statue, senior police officer Amit Kumar told the BBC.
The second body was thought to be a girl who was abducted nearby in March. Her body was found buried inside the house beneath a trident symbol.
Mr Kumar said seven people, including the alleged witch doctor and his wife, have been arrested on suspicion of taking part in child sacrifices.
Police say that they suspect more children may have been killed by the alleged witch doctor and that digging work is going on at the house.