India Mumbai Jewish centre restoration is 'unlawful'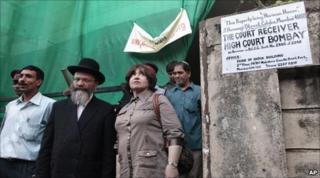 The organisation which runs a Jewish centre attacked by gunmen in the Indian city of Mumbai (Bombay) in 2008 says that it is being rebuilt unlawfully.
The orthodox Chabad Lubavitch group says the restoration of its centre lacks the proper permits.
It wants Nariman House to be a memorial to those killed. Relatives would prefer to see a "lively" education centre.
The building was among sites under siege for days when 10 gunmen attacked Mumbai, killing at least 166 people.
Plans by the parents of Rabbi Gavriel Nocah Holtzberg and his wife Rivka - who were killed in the 2008 attacks - to build an education centre at the site are being opposed by Chabad Lubavitch.
"It has come to our attention that the current construction has been carried out illegally, lacking the proper permits," said a spokesman for the group, Motti Seligson.
"Our major concern of course is to ensure that all restoration at Nariman House is done legally and safely."
Representatives of the Holtzbergs told the BBC that "there was no fight" between two sides, even though they had differing visions for Nariman House.
The family representatives say that the disagreement is a result of a "misunderstanding" and that the two sides would soon be working together to restore the centre.
Rebuilding work - which started in October - was recently suspended by a court order. Water and electricity supplies to the centre were disconnected.
As the second anniversary of the attacks is commemorated on Friday, a further court hearing is in the offing to resolve the dispute.
There are few workers around the building at the moment and security guards do not let anyone in.
The six-floor centre was badly damaged by heavy gunfire and grenades.
Some residents of the area were involved in the rescue operation staged by commandos which brought the stand-off with the militants to an end.
The Holtzbergs' son Moshe, who is now four, was miraculously saved by his nanny Sandra Samuel in the course of the attack.